Predictions for in-store retail in 2022

Humans are pretty bad at making accurate predictions about the future, yet at this time of year journalists and bloggers collectively write thousands of pages about what they think is definitely and incontrovertibly just around the corner. Reading back through previous years' articles it seems like otherwise intelligent people have been confidently predicting that RFiD is on the verge of a mass market breakthrough for the last fifteen years, and that every home will soon have a smart fridge.
We are an AI company, and AI is essentially the process of giving computers enough data and time so that they can make predictions on our behalf. We therefore thought it best to turn our year-end predictions over to a huge AI project - OpenAI's mammoth GPT-3 natural language processing system.
To get our glimpse into the future we 'seeded' the algorithm with the text shown in bold (because that was what we wanted to talk about), chose our preferred processing engine (davinci, purely because it is the broadest in scope), tweaked a few penalty parameters and let the AI come up with the rest. Here's what we got:
Predictions for in-store retail in 2022
1 - Full service versus low friction
2 - More computer vision applications
3 - More with less
4 - The Amazon effect
5 - More conversation between players
6 - Store of the future
7 - The importance of a brand
8 - Personalisation
9 - Blockchain
10 - A lot of change in a short time
And overall, it's not a bad list for an article such as this. A Google search for retail 2022 "more with less" produces 976,000 results, retail 2022 "store of the future" has 272,000 results, and retail 2022 "personalisation" gives a whopping 16.6m pages to root through. We're just glad that "Omnichannel" didn't make the list.
Ok - so that was the easy part. Now let's flesh the headlines out with some good old fashioned human intelligence. Here are SAI's bionically enhanced predictions for in-store retail in 2022
1 - Full service versus low friction
Our customers realise very quickly that we have all of the technology components required to build a frictionless store. We have chosen instead to build a platform that focuses on improving customer service and enhancing the in-store experience.
Our prediction for 2022 is that retailers in all brick-and-mortar sectors will begin the process of determining where they want to position themselves on the autonomous-versus-service spectrum. It may take a few years and many experiments to completely work it out, but we think that this journey will define the coming years.
2 - More computer vision applications
Cameras bridge real world activity into reservoirs of valuable data. Many in-store computer vision systems currently focus on loss prevention and theft detection. This is where our story began. Over the years, we have expanded our capabilities way beyond that, and we expect our customers to lead us into many interesting areas as they begin to understand the true potential of what we can achieve together.
3 - More with less
Of course, every year businesses are tasked with improving efficiencies, so predicting pressures to do more with less seems a little obvious. The particular challenge for retailers is much more immediate and is led by staffing shortages. In the grocery sector we have already seen customers being diverted towards self-service checkouts (with an associated increase in losses) as people who would previously have staffed the checkout lanes have decide to find work elsewhere. We expect this trend to grow unless the idea of 'working in retail' can be given a serious makeover.
4 - The Amazon effect
Amazon has a number of advantages over its peers in the retail business. In particular, it is allowed to operate rent-free in the minds of almost every senior executive. Having already eaten the lion's share of online retail, the behemoth's every move in the offline space is pored over and analysed in tremendous detail.
The major operational advantage it enjoys is that it has the resources to play at either end of the autonomous-versus-service spectrum (AmazonGo-versus-Whole Foods, if you prefer) and to take the lessons it learns from one side into the other. While Amazon continues to grow its offline presence, it does so quite slowly - Lidl and Aldi are currently opening new locations more quickly in the US, suggesting that a focus on internal strengths and values are more effective than worrying about the big smiley-box shifter.
5 - More conversation between players
Another way to think about Amazon is that it is a huge technology company that accidentally built a physical global distribution network. Many retailers have come to rely heavily on its AWS tech for core business operations and Amazon has become a trusted partner where once it was looked on sceptically, to say the least. Slashing the cost of the AWS components required to run its Just-Walk-Out technology has opened new conversations and pilot stores with Sainsbury's on the UK high street and Hudson in US airports. This was the surprise trend last year, and we expect to see retailers look to learn from each other and their partners as in-store technology pushes processes and even business models in the future.
6 - Store of the future
Just a few years ago the "Store of the Future" was a showcase location where retailers would test shiny innovations and promising new technologies.
Think RFiD and smart fridges.
Changing staffing levels, wobbly supply chains and global health crises have buffeted the industry for the last two years. Stores need to be able to adapt, but the future seems to be increasingly uncertain. We expect to see a move towards every store becoming a store of the future - some with complete overhauls and others with more subtle, less perceptible changes. It is not just a matter of showy tech anymore. It's innovation as a survival mechanism.
7 - The importance of a brand
In uncertain times such as we have had in recent years, trust is becoming increasingly important. Consumers will rely increasingly on brands that they can trust - not just to deliver the food for their tables, but also deliver on their personal values.
8 - Personalisation
Personalisation has been a topic of keen interest in offline retail for a few years now. It was one of the earliest incarnations of the Amazon effect - how can we influence or upsell to customers standing in front of a shelf rather than sitting in front of a screen?
This is another problem that can be viewed on the autonomous-versus-service spectrum, and retailers will have to find out whether they would rather trust AI to interact directly with customers, or whether they can empower their staff to provide personalisation through face-to-face interactions.
9 - Blockchain
It is no surprise that if you ask an AI system to generate your ten predictions for 2022, it will throw in another headline-grabbing but largely misunderstood technology. Blockchain in-stores in 2022? Possibly a little bit. We have some ideas though, and we're excited to see where they take us.
10 - A lot of change in a short time
At the start of the pandemic the entire world went through a lot of change in a short time. As restrictions have been lifted and re-applied it has felt like we have been through it over and over again. We sincerely hope that it is not a dominant theme for the next twelve months, although as we begin to roll-out our technology into stores we believe the very fast ROI of our platform will help our customers to quickly make the changes they need.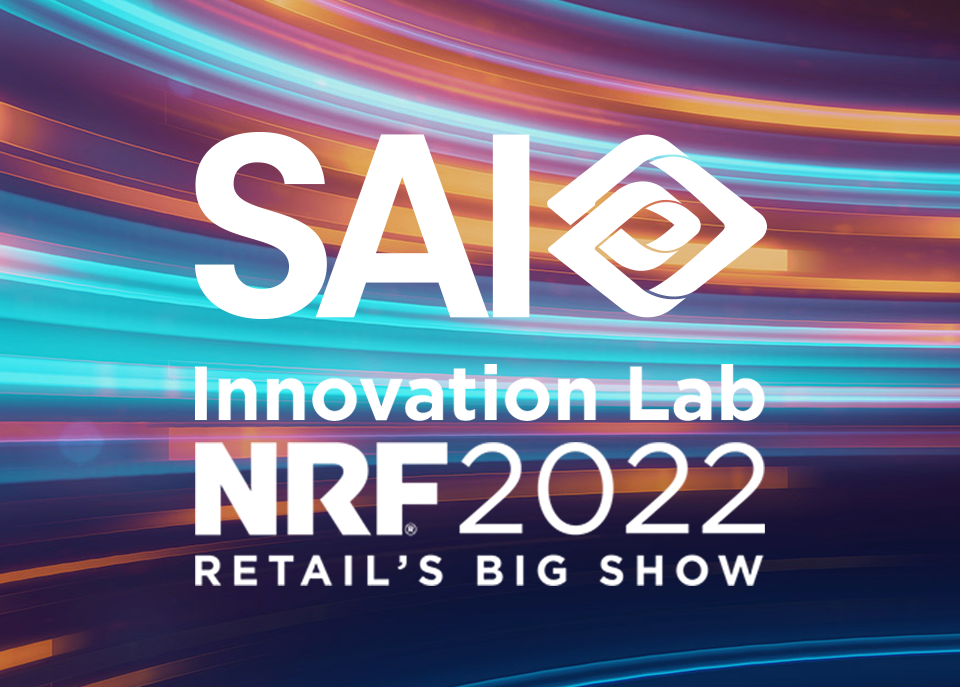 SAI will be part of the Innovation Lab at NRF's Big Show at the Javits Centre in New York from January 16th to the 18th.